Summer is here so it's time to show your colours! GripGrab recently introduced a series of nice colourful product under the tagname #CLRUP! Ridez.cc got their hands on a few of these products which was an excellent opportunity to test and show-off at the same time! Since we are Dutch, there was only one colour we could pick…Orange of course! Here's a small summary of the products we tried.
Vertical Gloves
The vertical gloves are not new in the collection of GripGrab but the orange version is. This glove was back in 2016 an EuroBike award winner and last year they received an ISPO award for the so called Inside Grip Technology.  Inside Grip means you get small silicon grip elements on the inside of the glove. Once you slip these very soft and flexible gloves around your fingers, your hands are not moving at all inside the glove anymore, even with sweaty hands. Positive side effect: no more chaffing and no more blisters in the palm of your hand after long days in the saddle. The Verticals have no padding so you have an excellent grip on the handlebars. What they do have is silicon finger tips to enhance the grip on brakes and shifters, a sweat-wiper on the thumb and of course.. this great orange colour! Did we mention the absolute perfect fit, super ventilation and superb comfort? Well, there you have it.  And by the way, if you don't like the orange (no way!), you can get them in a black and white version as well for just around 45 euro's.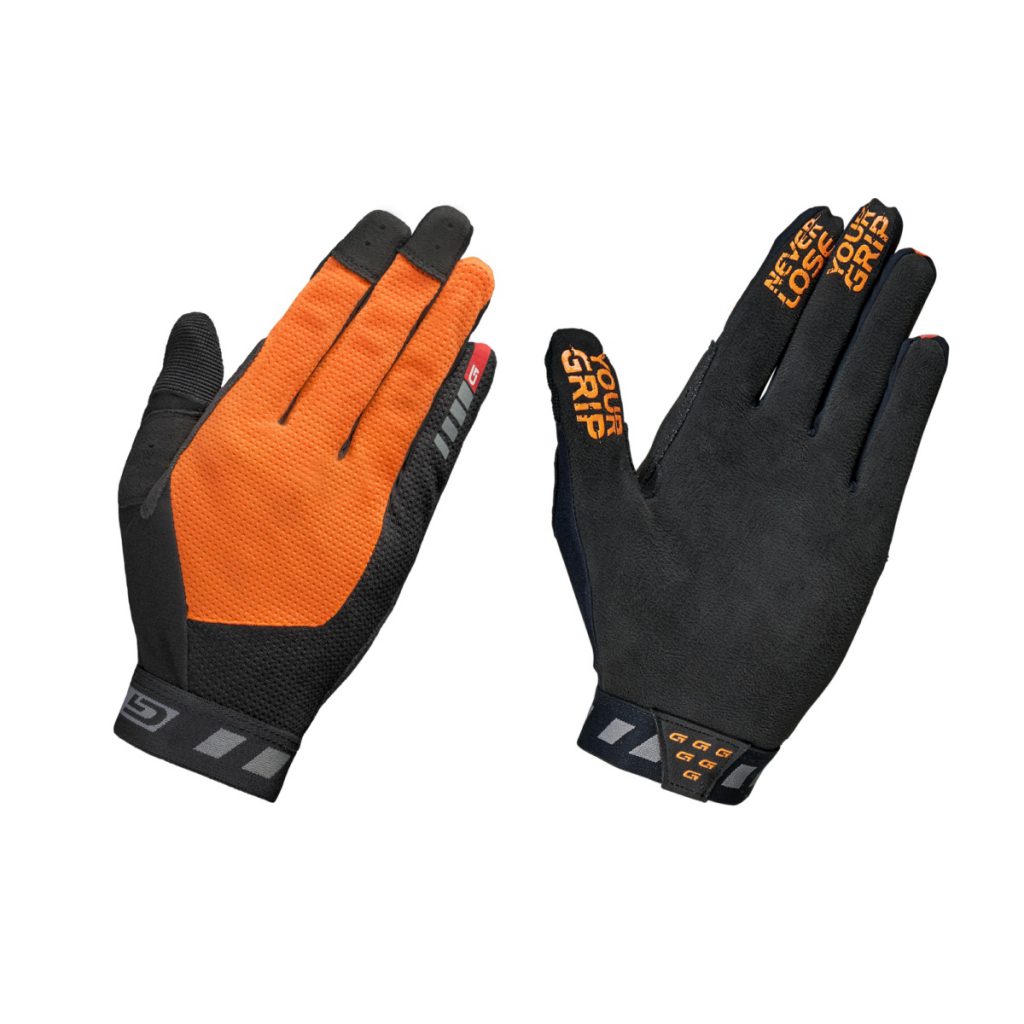 Socks
Socks for mountainbikers used to be black, or black or maybe black. Since they become more and more a fashion item and a way to make a statement, a lot of companies came with coloured variants of their sock collection. So did GripGrab. We tried the lightweight SL sock and the Classic Regular Cut Sock. The lightweight SL is a stylish summer sock. We tested the version with the short cuff. There is also a version with a long cuff available. Both are made from breathable Coolmax so they are excellent for warm weather riding. Since there are no seams in the toebox, they are very comfortable to wear. The wide hem keeps them perfectly in place and there are many colours to choose from, so pick one that suits your style. The GripGrab Classic Regular Cut sock has a slightly higher cuff till just above the ankle bone which is a good thing as we ride in areas where at the moment many ticks are active, so a little more calf-coverage is useful and functional. The regulars are also made of Coolmax but in a slightly thicker variant so you can ride them in three seasons. And you have them always on the right (left) foot because of the 'Foot-Love' prints on respectively the left and right sock. Six nice colours to choose from but you know our favorite dye already…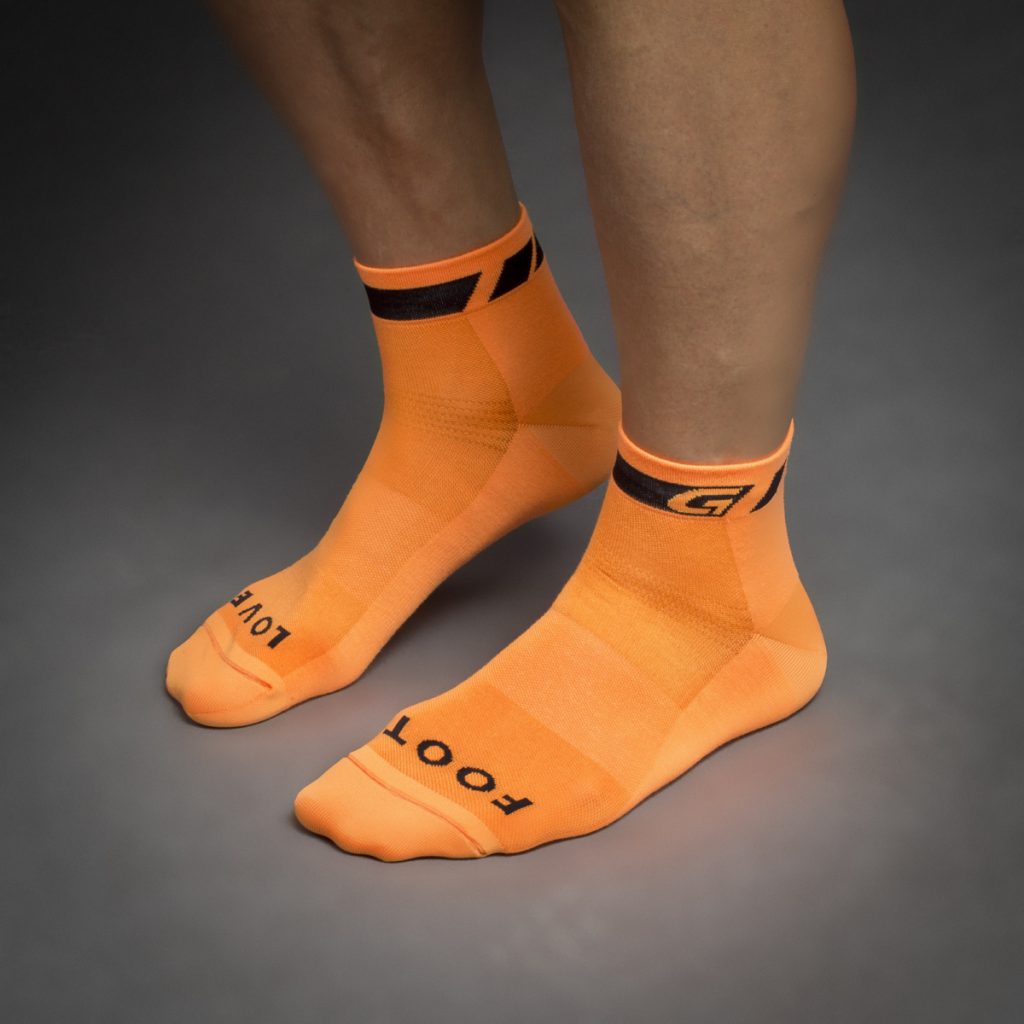 Neck warmer
We are big fans of neck warmers. They are multifunctional as (of course) neck warmer, bandana, sweatband or even face mask. On long bikepacking tours we use all these functions during one trip to keep riding in chilly mornings or evenings more comfortable. Or we keep our heads or necks a little bit warmer at night in our sleeping bags enjoying a few hours of sleep during ultra-races. The GripGrab multifunctional neck warmer is new in the collection for 2019 and is made of a quick drying fabric. It keeps you warm and comfy in the cold and soaks up sweat when the sun is burning. You just cannot go out on a multiday tour without one of these! It sets you back only  €14,95 and for this amount of money you can even choose between 8 colours. Again… pick the orange, just because…

 
Accessories
GripGrab has a few more things to offer in their CLR UP! collection, like headwear , shirts and some cool accessories. Check it out on their website by clicking this link. We picked the 600 ml drinking bottle with orange cap as a finishing touch on the downtube of our bikes. The bottle is BPA-free and has a wide opening which makes it perfect for putting in ice cubes to cool our drinks during our summer testrides.
And one more thing: don't be conservative! Just show some more colours on the trail. It makes the world a little brighter, even when the sun is not out.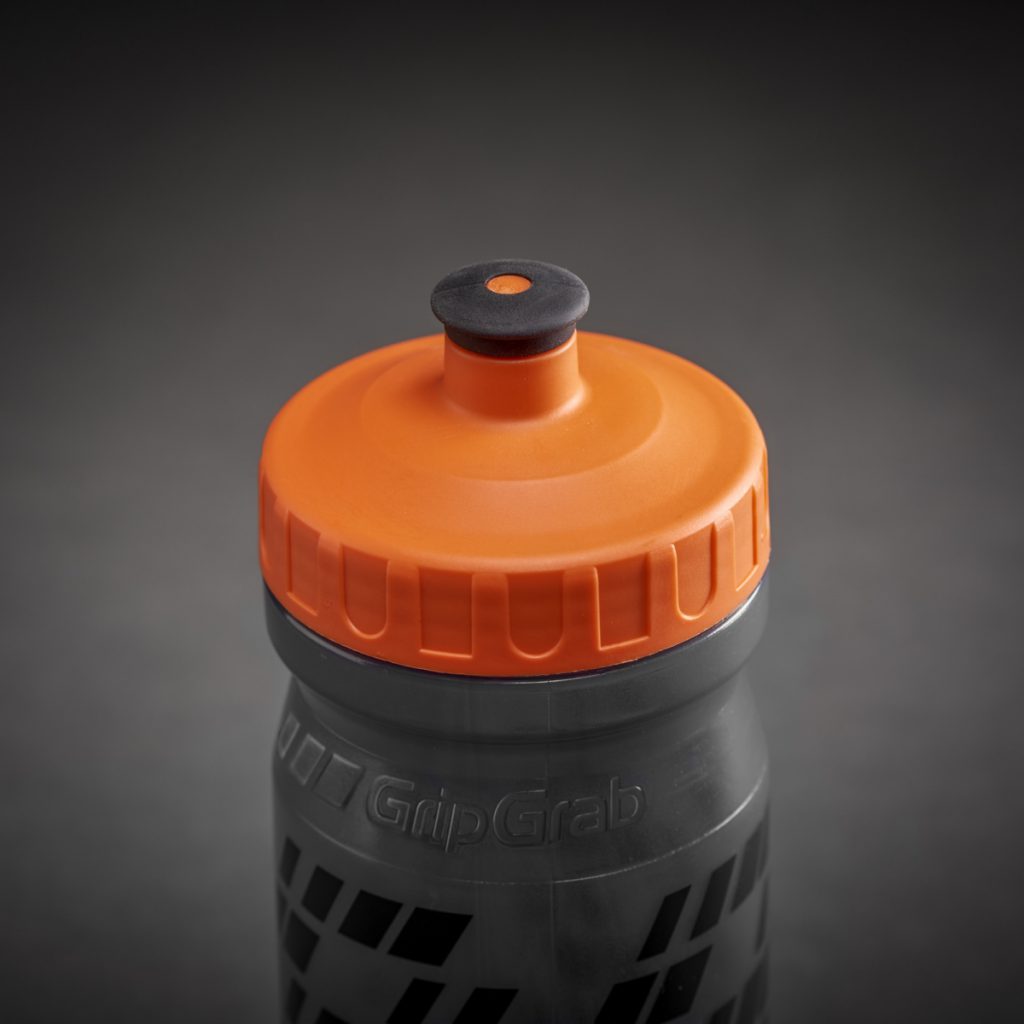 @Photocredits: GripGrab Media Crew